Jurassic World
was both literally and figuratively the prevailing monster(s) at the box office this past summer. The dinosaurs and their human prey have arrived in DVD. Somewhat lost in all that pounding excitement this summer were two of the better films of the year to date,
The Gift
and
End of the Tour.
In addition to a mixed bag of feature films, we have a rich quartet of documentaries among our recent arrivals on DVD. Not enough? Perhaps you devote most of your viewing time to those addictive series? Worry not - we have lots of new series DVDs for you as well.
Feature Films
THE GIFT
Jason Bateman and Rebecca Hall star in this psychological thriller about a seemingly perfect couple, Simon and Robyn, who relocate to the Los Angeles area from Chicago. Soon after their arrival they encounter Gordon (writer/director Joel Edgerton), an awkward man who knew Simon during their school days. Gordon shows up at the elegant mid-century home of the couple to offer them a welcome gift, but his visits continue. As the relationship between the couple and the outsider grows more complicated, it's not clear where the greater darkness lies: with Gordon or behind the impeccable veneer of Simon and Robyn's life. All of the principals are quite good here, but Jason Bateman has never been better.
END OF THE TOUR
Based on David Lipsky's memoir,
Although of Course You End Up Becoming Yourself
,
End of the Tour
features a brilliant performance by Jason Segel as writer David Foster Wallace. Jesse Eisenberg plays Lipsky, then a Rolling Stone writer assigned to interview Wallace during the last days of his book tour for the colossal
Infinite Jest.
JURASSIC WORLD
Will we never learn that live dinosaur theme parks are a bad idea? Apparently each generation must learn their lesson the hard way. Thus, J
urassic World,
as unstoppable at the past summer's box office as a rampaging, genetically-engineered velociraptor. We have several copies of Jurassic World in
regular DVD
and
Blu-ray
.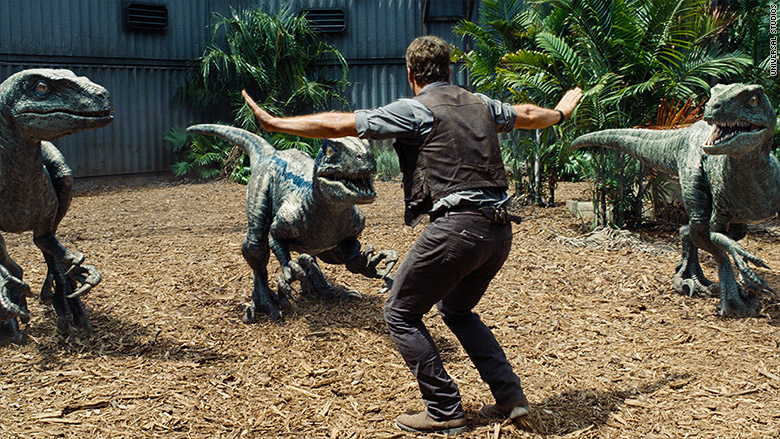 WHAT WE DO IN THE SHADOWS
And now for something decidedly different. Jemaine Clement (he of
Flight of the Conchords
fame) stars as one of a group of vampires who share a house in Wellington, New Zealand in this often droll, sometimes hilarious mockumentary. In addition to the perils of daytime and it's potentially incendiary sunlight, it turns out that 21st-century vampires have more mundane problems, like dealing with messy housemates and wrangling modern technology. There is also the scourge of vampire hunters and an annoying gang of werewolves. Happy Halloween!
Set in "The Bottoms" neighborhood of Inglewood, California,
Dope
is something of an urban fairy tale. Like classic fairy tales,
Dope
doesn't shy away from the harsher elements of its story - in this case, gangs, violence, drugs and the general difficulty of being a geek in this area of present-day Southern California. But in fairy tale fashion Malcolm, Jib and Diggy magically navigate this vibrant, often forbidding world unscathed.
Dope
is smart, sweet, satirical fun.
Documentary
The Wolfpack
is one of those stories that is a documentarians dream. Director Crystal Moselle actually met the six boys featured in
The Wolfpack
by chance, walking down First Avenue in Manhanttan while she was still a graduate student. She came to learn that the boys, along with one other sibling, had been homeschooled in a Lower East Side apartment and rarely allowed to leave their their home. The children learned about the outside world by watching films, which they then reenacted. Only when one of the boys, then a 15-year-old, dared to go out and walk around the city on his own, did life forever change for the Angulo brothers.
GLEN CAMPBELL: I'LL BE ME
When the great Glen Campbell (timeless recordings of "Gentle On My Mind," "Wichita Lineman," "Rhinestone Cowboy" among many others) was diagnosed with Alzheimer's disease in 2011, he decided to make a farewell tour. What was supposed to last only five weeks became a year and a half celebration of his life and music.
Glen Campbell: I'll Be Me
was nominated for Best Original Song at the 2015 Academy Awards for Campbell's final studio recording, "I'm Not Gonna Miss You."
ABOVE AND BEYOND
Above and Beyond
is the story of American pilots who flew planes to help the new Israeli state during the 1948 Arab-Israeli War.
I KNEW IT WAS YOU: REDISCOVERING JOHN CAZALE
Tantalizingly short as the life of its subject, "I Knew It Was You," recounts the all-too-brief career of character actor John Cazale, most famously known for his performance as the hapless brother Fredo in the first two Godfather films. Cazale appeared in only five films, but all were nominated for Best Picture and won a slew of acting awards for those who worked with the inspiring actor. A strong testament to the esteem in which Cazale is still held can be found in the number of major stars who take time to reminisce about their relationship and work with the actor's actor. There are also revealing interviews with actors a generation or two removed who feel his influence, including another brilliant man who died far too young, Philip Seymour Hoffman. Among Cazale's contemporaries, we hear from Al Pacino, Sidney Lumet, Robert De Niro and Gene Hackman. There is also the love of John Cazale's life, Meryl Streep, who was at the his side when he succumbed to lung cancer in 1978 at the age of 42.
Also new: It's the true story behind the film
Argo
,
OUR MAN IN TEHRAN
.
Series
INDIAN SUMMERS, SEASON ONE
This British drama - broadcast as part of PBS' Masterpiece series - is set among a group of English socialites who spend their summers in Simla, India, in the foothills of the Himalayas during the time of The Raj.
HOME FIRES
Meanwhile, back in Great Britain...it's World War II.
Home Fires
takes place in rural Chesire, among the many women separated from family members at Women's Institute.
CHASING SHADOWS, SEASON ONE
Alex Kingston and Reece Shearsmith star in this British miniseries which follows the work of a missing persons unit. In the grand tradition of mismatched partners, he's the socially inept genius and she's the empathetic analyst. Expect a good bit of friction and suspense.
HAPPY VALLEY, SEASON ONE
We're not in the Happy Valley that's home to the Penn State Nittany Lions. Nor is this valley in West Yorkshire happy at all as experienced in this BBC series. Sarah Lancashire plays a police sergeant trying to come to terms with her daughter's suicide, even as she encounters than man she believes responsible for the assault that drove her daughter to take her life. The sergeant's pursuit of the man takes her into even murkier waters than she imagined.
THE LEFTOVERS, SEASON ONE
Based on the novel by Tom Perrotta, this HBO series is set in fictional Mapletown, New York three years after a global event called "The Sudden Departure," which involved the disappearance of two percent of the world's population (140 million people). Justin Theroux stars as a police chief whose splintering family is enough to keep him worried, not to mention all the chaos in the world about him.
Also new in series DVDs:
AGENT CARTER, SEASON ONE
WODEHOUSE IN EXILE
THE CODE, SEASON ONE
FRESH OFF THE BOAT, SEASON ONE
MAD MEN, FINAL SEASON, PART 2
NURSE JACKIE, SEASON SEVEN
FOLLOWING, SEASON THREE
db